The Tandem t:slim X2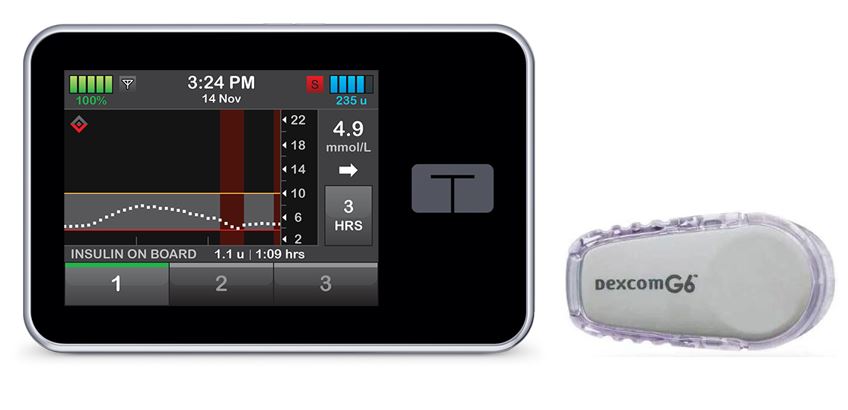 Pump Features
Colour touch screen
Dexcom G6 CGM enabled
Rechargable battery
Tubed proprietary infusion sets
Upgrades are done via software downloads after learning module completions.
Basal IQ, the feature in older models, only reduces basal insulin but also allows for individualization of glucose targets e.g. in pregnancy. Tandem provides loaners for clients on Control IQ currently wishing to transfer to Basal IQ during their pregnancy.
Control-IQ is in the newest upgrade. It adjusts insulin delivery to help prevent highs (automated partial corrections and increased basal insulin) and lows (temp basal suspensions), while requiring the user to manually bolus for meals. Individualization of glucose targets is not an option. The algorithm uses a patient's programmed basal rates, and correction factors (ISF) and potentially other factors to make automated dose adjustments. Carbohydrate counting and food boluses are still required. When Control IQ is active, a patient can adjust basal rates, ISF, carb ratios but not insulin duration, and not glucose targets.
How Control IQ Works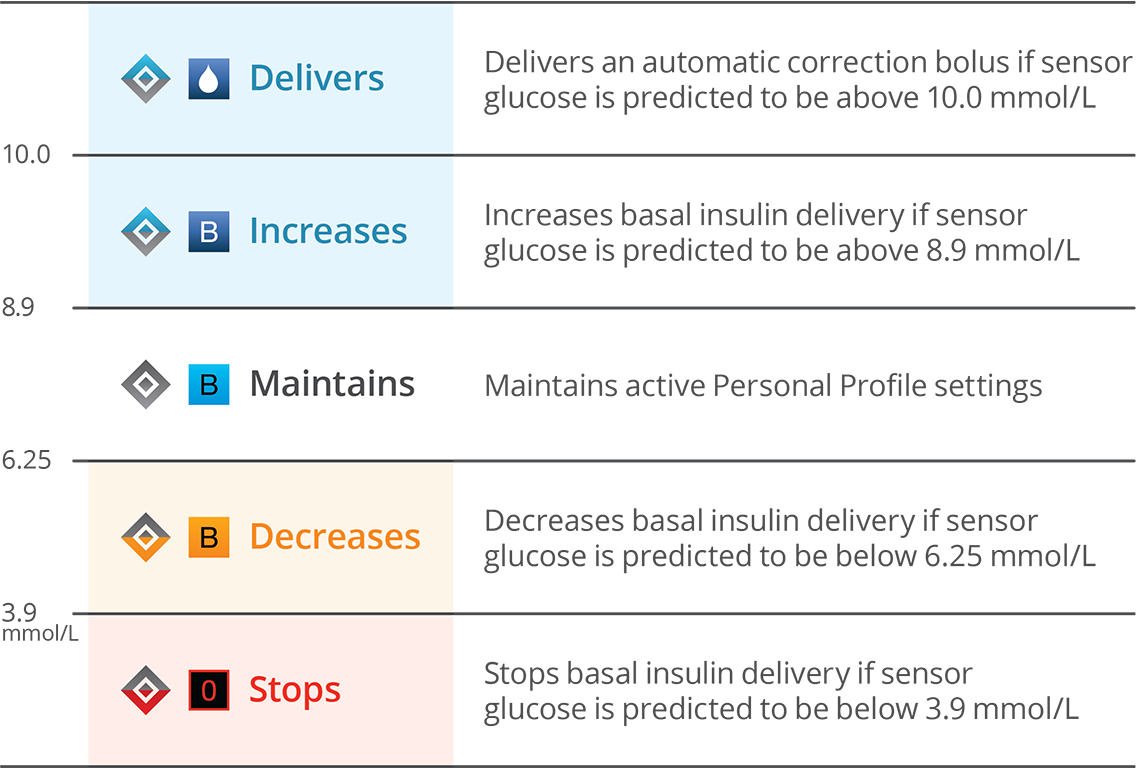 Training
Notes for Dose Adjustments & FYI
Indications, TDD, Weight & other FYI
TDD and weight Indications for Control IQ are TDD 10-100 units per day and weight 25-140 kg. These are the maximum allowable entries into the system at initiation.Control-IQ uses these initial entries to enable the algorithm to start working right away without needing to "learn" based on time. (We are awaiting clarification from Tandem on what they meant by "learn"; you may see this information change.) However, as time passes, the algorithm uses actual delivered TDD based on a rolling 6 day average. Patients beyond these indication levels have still used Control IQ; it is then an off-label usage.
Maximum bolus size is 25u. Over that, patients would need two boluses for a meal.
Max Basal Rate: If programmed basal rate is > 3u/hr, the system will deliver it if the CGM signal is active. However, for safety, if a CGM signal is lost for > 20 minutes the system reverts to 3u/hr as max even if their programmed rate is >3u/hr. To avoid this being an issue, suggest having the patient turn Control-IQ OFF during the two hour warm up on a new sensor every 10 days.
Health Canada does not require a prescription to upgrade a current Tandem pump to Control IQ. Tandem requires patients complete an online learning module.
Hypoglycemia:
Prioritize your problem solving and change doses for actual hypoglycemia events that occur despite Control IQ suspending low.

Frequent basal suspensions in the reports (red bars) do not necessarily indicate hypoglycemia or indicate a need for a change in therapy.

Problem solve or change doses if the suspensions are for longer periods of time and/or with a regular pattern.

Tandem indicates short suspensions are 5-30 minutes. Long suspensions are more than 30-45 minutes.
Tandem suggests using 5-10 g or rapid acting carbohydrate to treat hypoglycemia and evaluate. Since basal insulin delivery had already been suspended for some period of time, the full carbohydrate treatment may not be needed.
Hyperglycemia:
Frequent auto basal increases or hourly auto corrections in the Diasend reports do not necessarily indicate a need for change in therapy.
Assess problem areas of high readings where the automated insulin delivery cannot address the hyperglycemia.
The Tandem user guide reports the maximum insulin delivery rate is calculated using ISF (Insulin Sensitivity Factor or Correction Factor), estimated and recorded total daily insulin, and IOB (current insulin on board).
Hyperglycemia occuring in repeated patterns may be addressed with basal rate changes or depending on the timing, ICR.
Hyperglycemia that is frequent but sporadic in timing and non responsive may, after troubleshooting, be addressed with changes to ISF. Tandem uses an insulin action time of 5 hours. Some patients have found they need a more agressive ISF when in Control IQ.
Patients may wish to set different basal profiles: A manual profile with usual (less agressive) ISF when not using Control IQ; A profile for when control IQ is used on a usual day (may have a more aggressive ISF); A profile for when sick or menstruating which may have increased basal rates beyond the settings used for their usual Control IQ profile.
Company Contacts & "Office Hours" for HCP Questions
Territory Manager Kate Stephen

This email address is being protected from spambots. You need JavaScript enabled to view it.

PHONE: (403) 512-2632 FAX: (858) 224-6400


"Office Hours" for Healthcare Professionals ONLY to connect with Tandem Trainers are below: