The most current model of Medtronic MiniMed insulin pump available in Canada is the 780G with Automated Insulin Delivery (AID) and auto-corrections. The term SmartGuard has replaced the term "AutoMode". Older and still popular Medtronic models in use include the MiniMed 630G, 670G and the 770G with AID which is upgradeable to the 780G. For a comparison between AID pumps, click here.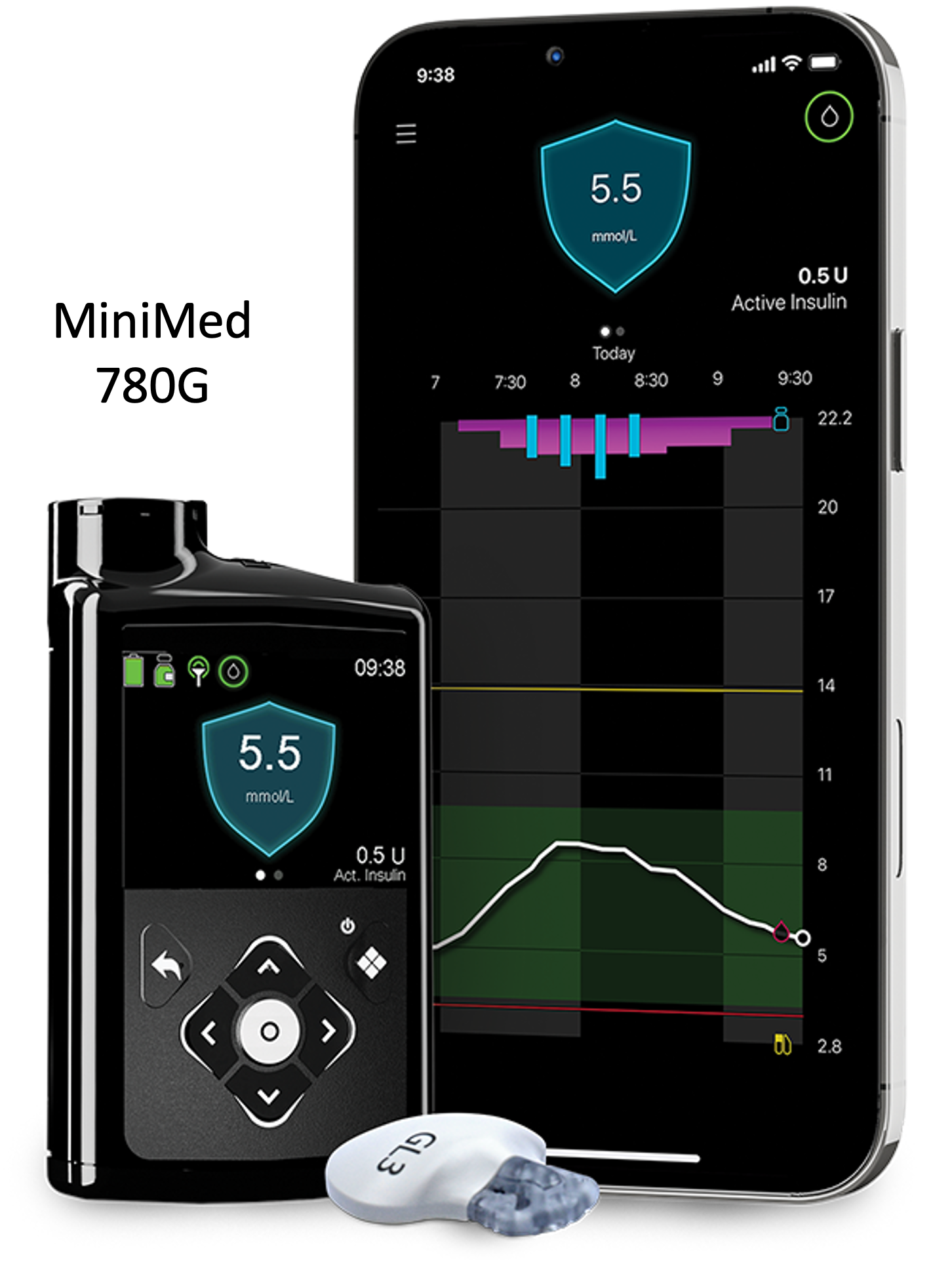 780G Overview
For comparison with the older 770G pump, see the Automated Insulin Delivery (AID) Pumps page here.
The 780G SmartGuard feature uses an algorithm and Guardian Sensor 3 to adjust and correct glucose readings every 5 minutes when SmartGuard is engaged.
Automated insulin delivery may include toggling basal up, down or off and may include the addition of auto corrections.


Glucose Targets available in SmartGuard

5.5 mmol/L (with auto corrections on as default; these can be disabled)
6.1 mmol/L (with auto corrections on as default; these can be disabled)
6.7 mmol/L (with auto corrections on as default; these can be disabled)
8.3 mmol/L with no autocorrections available

The pump can be used in:

Full SmartGuard Mode (previously termed AutoMode)
Or in manual plus suspend before low
Or in full manual mode

The pump and sensor communicate via MiniMed Mobile phone app using Bluetooth.
Data is visible on the app and is uploaded to Carelink automatically. The app will not program the pump.
Carb counting and manual meal bolusing are required.
For more information visit Medtronic.
Consideration:

If A1c prior to the start of using an AID pump (previously hybrid closed loop) could drop quickly by more than 2% over 3 months (particularly for those with A1c in double digits), consider discussions with the specialist physican and patient about higher temporary glucose targets. Rapid A1c improvements have been associated with changes in retinopathy and rarely, painful treatment induced neuropathy of diabetes (TIND) or insulin edema.
SmartGuard (previously AutoMode)Features Available for Use
In SmartGuard, users will only be able to control the:
Active insulin time

Carbohydrate ratio

Glucose target (4 presets)
The following are NOT available for use in SmartGuard (they are available in Manual Mode):
Temporary basal rates
Insulin sensitivity factor - ISF (The algorithm determines a correction dose based on recent insulin delivery, not on ISF. The patient may accept or decline the dose.)
Dual or square wave bolus
Pre-set boluses
Easy bolus
Manual bolus with user decided units
Remote bolus
Additional SmartGuard (previously Auto Mode) information:
Requires blood glucose calibrations of CGM. Usually, three calibrations on day 1 of the sensor and usually two calibrations daily afterwards.
SmartGuard will stop if the pump delivers basal insulin based on insulin delivery history, and not sensor readings, for four hours.
Periodically the manual basal rates should be updated to reflect overall basal insulin delivery in SmartGuard.
Training
780G (Upgraded from 770G)
At Follow-Up or At 780G SmartGuard Training:
Recommended settings to assist SmartGuard. (These may need to change in manual mode.)
Target 5.5 mmol/L is the default. (If need to raise it visit Main Menu > SmartGuard > SmartGuard Settings)
2 hr Active Insulin Time is suggested but is NOT the default consider changing. (Main Menu > Insulin > Insulin Delivery Settings > Bolus wizard setup)
Bolus Increment 0.025 units ((Main Menu > Insulin > Insulin Delivery Settings)
Bolus delivery speed: Quick (Main Menu > Insulin > Insulin Delivery Settings)
Advise to prebolus for meals
Carb Ratio may need to be strengthened
Carelink report is the same except for the following: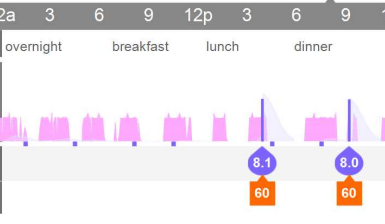 Above Carelink 780G: Small purple bars below the line are auto-corrections. As usual, purple bars above the line are meal boluses. Pink continues to be auto-basal.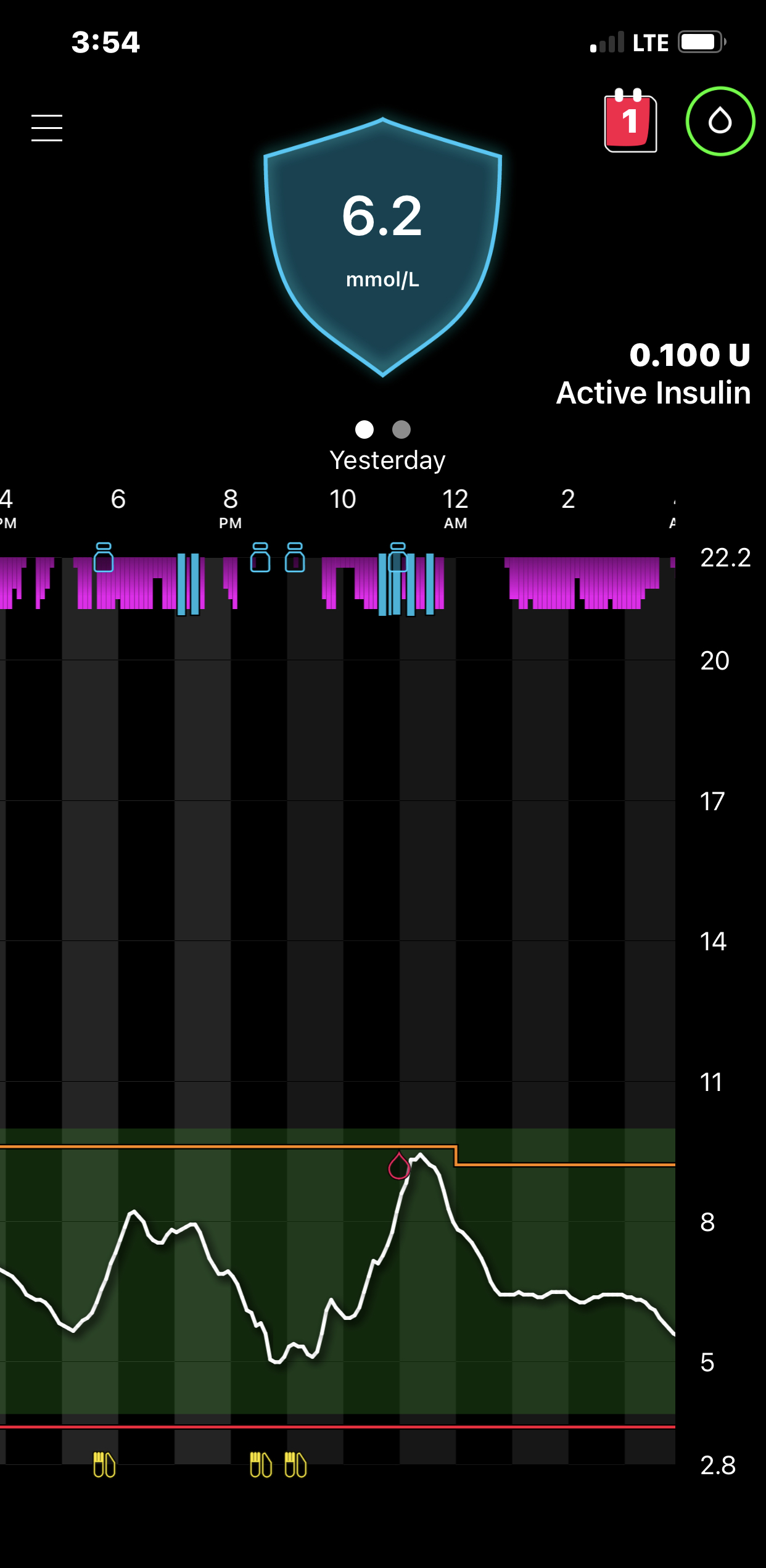 Above: The patient Medtronic App view is the same except, long blue bars indicate auto-corrections. As usual, little yellow fork/knife symbols on bottom indicate carb input (touching reveals grams); little blue vials on top indicate meal bolus OR if the patient has delivered a manual correction (after opening Bolus Menu and seeing the pump suggests one. Otherwise, pump will deliver this as auto-correction in time.)
770G
Medtronic Resources 770G: Videos & PDF Handouts
Cannula Fills
Set Name
Cannula Length
Cannula Fill
Silhouette
13 mm or 17 mm
0.7 unit
Mio 30
13 mm
0.7 unit
Quick Set
6 mm
9 mm
0.3 unit
0.5 unit
Mio
6 mm
9 mm
0.3 unit
0.5 unit
Mio Advanced
6 mm
0.6 unit
Sure-T
6 mm or 8 mm
Zero unit
Company Contacts
CONTACTS- MEDTRONIC

Medtronic Canada Website
Customer Care: 1-800-284-4416
Diabetes Territory Manager (Southern Alberta):

This email address is being protected from spambots. You need JavaScript enabled to view it.

1-403-829-1932
Diabetes Clinical Specialist (Alberta):

This email address is being protected from spambots. You need JavaScript enabled to view it.

1-403-831-4102

This email address is being protected from spambots. You need JavaScript enabled to view it.

1-905-460-3738