The most current model of Medtronic MiniMed insulin pump available in Canada is the 780G with Automated Insulin Delivery (AID) and auto-corrections. The term SmartGuard has replaced the term "AutoMode". Older and still popular Medtronic models in use include the MiniMed 630G, 670G and the 770G with AID which is upgradeable to the 780G. For a comparison between AID pumps, click here.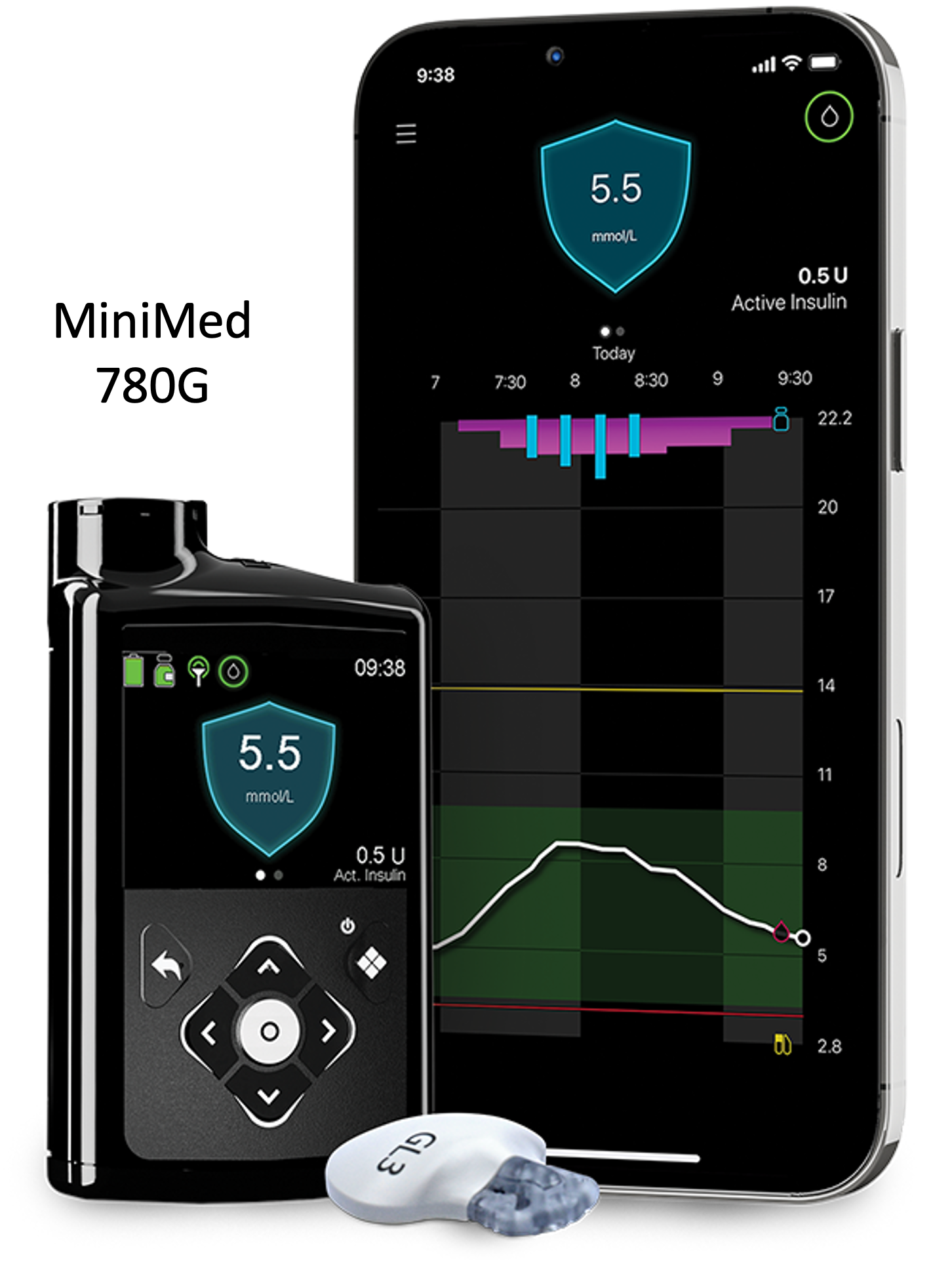 780G Quick Look & Features That Can Be Adjusted
SmartGuard (previously Auto Mode) uses an algorithm and Guardian Sensor 3 to adjust insulin dosing every 5 minutes. Carb counting and meal bolusing are advised.
Automated insulin delivery may include toggling basal up, down or off and addition of auto corrections up to every 5 minutes.
Basal insulin and corrections are determined by the algorithm. It does not refer to manual basal rate and ISF settings.
Only these features, below, can be adjusted when in SmartGuard


Targets: 5.5, 6.1, 6.7 or 8.3 mmol/L (the latter has no auto-corrections)
Active Insulin Time: 2 to 8 hrs
Carbohydrate Ratio
Auto-corrections turned off for targets 5.5, 6.1, 6.7 mmol/L
Training
Safety
As per any AID system, If a manual bolus is required for the prevention of DKA, advise stay in manual mode for a least 3-4 hours until resuming SmartGuard.
SmartGuard updates its algorithm each night based on total daily dose of insulin usage from the past 6 days. Following periods of increased insulin requirements (steroids, illness, unusually large portions/binging or prolonged stress) suggest using the temp target of 8.3 mmol/L (which has no autocorrections) for a few days until the algorithm readjusts.
As with any AID system, If A1c prior to the start of using an AID pump (previously hybrid closed loop) could drop quickly by more than 2% over 3 months (particularly for those with A1c in double digits), consider discussions with the specialist physician and patient about higher temporary glucose targets. Rapid A1c improvements have been associated with changes in retinopathy and rarely, painful treatment induced neuropathy of diabetes (TIND) or insulin edema
Auto-Basal Basics
Basal rates are determined by the algorithm. The algorithm does not reference the manual basal rates programmed in the pump. The MAX basal rate has no impact on SmartGuard. (Does not impact the TDD in SmartGuard nor the MAX / MIN basal rates of SmartGuard.)
Is impacted by the total daily dose (TDD) of insulin delivered over a period of 6 days.
Auto-Corrections Basics
Are determined by the algorithm. The ISF is not used or referenced.
Are provided up to every 5 minutes if glucose is over 6.7 mmol/L and algorithm determines additional insulin is required. (Basal modulation provides additional insulin if lower target).
Are not available if temp target of 8.3 mmol/L is chosen
Can be turned off for other targets: 5.5, 6.1, 6.7 mmol/L
If they make up over 30% of TDD, consider addressing carb ratio or active insulin time.
CGM Setup
Suspend before low: ON
Low limit: 3.8 mmol/L
Alert before low: OFF
Alert on low: ON by default
Alert on high: OFF
Start new sensor during fasting period or 2-3 hr after bolusing
SmartGuard Setup
Warm-Up Period:
SmartGuard activiation needs CGM use for at least 3 days (specifically, 48 hours from midnight after starting). For example, start CGM on Tues, can start SmartGuard on Friday, midnight.
Suspend Before Low During "wait" Period
Turn on while waiting three days in Manual Mode: Main menu > Settings > Alert Settings > Low Alert > Edit (you will see Suspend before low on/off and choose glucose level).
Target:
Although 5.5 mmol/L is the default, please consider 6.7 mmol/L for the first week or longer before moving down to ensure hypoglycemia is not a concern.( Main Menu > SmartGuard > SmartGuard Settings)
Active Insulin Time (AIT):
Consider starting at 3 hr for the first week, then working down to 2 hr if no concerns with lows. The suggested AIT is 2 hr. (Main Menu > Insulin > Insulin Delivery Settings > Bolus wizard setup)
Bolus Increment:
0.025 units (Main Menu > Insulin > Insulin Delivery Settings)
Bolus delivery speed:
Quick (Main Menu > Insulin > Insulin Delivery Settings)
PreBolus:
Advise to prebolus up to 15 minutes
Boluses
Normal bolus only in SmartGuard (no extended, dual wave, easy bolus, pre-set bolus).
Cannot be manually adjusted downwards or upwards after inputting carbohydrates.
The algorithm may reduce or hold the bolus if determines required. Expect it to be given later as auto-crorrections.
Pre-bolus up to 15 minutes before the meal
Forgotten bolus:

If within 30 minutes of eating: Enter half the carb. (Equates to half the bolus.)
If greater than 30 minutes after eating: Do not input the carb. (Equates to NO meal bolus.)
Allow auto-corrections and auto-basal to attempt to address. (If patient is insistent on bolusing, advise a dramatic reduction in the amount of carb eaten.)
Hypoglycemia
Treatment may be less than 15 g. Start with 15 g.
Address 3 main areas:

TARGET - Increase, even if temporarily (e.g. after illness, steroids)
CARB RATIO - Increase carb
ACTIVE INSULIN TIME - Increase, especially if persistent lows after auto-correcitons or auto-corrections starting too early after a meal.

Lows at SmartGuard start

Address the 3 main areas above
Consider higher starting target and longer insulin action together:
6.7 mmol/L at 3 hr AIT for 2 weeks
Then 6.1 mmol/L at 3 hr AIT for 2 weeks
Then 6.1 mmol/L at 2.5 or 2 hr AIT for 2 weeks
Can also turn auto-corrections off for a few weeks

Time Below Target > 4%

Address the 3 main areas above plus:
Address late bolusing, e.g. after eating
Address over-estimating carb
Do they need suggestions for exercise (see below)
Are they unsure of how much they will eat? Pre-Bolus for the grams they are certain they will eat. Enter additional grams of carb & boluses as they consumed later.
Hyperglycemia
Address 3 main areas:

TARGET - Reduce. The majority will have readings a bit higher than the set target.
CARB RATIO - Reduce carb, especially if 2 hr pc > 10 mmol/L and patient is prebolusing.
ACTIVE INSULIN TIME - Reduce. Mainly impacts correction doses.

Address inadequate pre-bolusing
Address inaccurate carb counting
Address missed boluses
If Auto-corrections are > 30% of TDD consider above options.
Special considerations:

Illness: A temporary decrease of carb in the ratio is more effective than temporarily adding in phantom carbohydrates. Be sure to change back!
Dawn Phenomenon: Many do nothing and let the auto-corrections take over. Some use a few grams phantom carb
Gastroparesis: Consider options above and let the system work.
Steroids: Consider options above and let the system work. Some have seen TDD change from 75 to 112 units when starting steroids.
Exercise
Before Exercise
1-2 hr prior, start temp target of 8.3 mmol/L (there are no auto-corrections)
At Start of Exercise
Start exercise in target range
Avoid exercise if rising glucose (basal will ramp upwards)
Avoid exercise if high insulin on board
Avoid large carb loading pre-exercise as readings may rise, then basal may rise
Consume, if needed, small amount carb before exercise without entering it into the bolus screen. E.g. for 45 minutes of moderate to high intensity exercise

Glucose 6.7 mmol/L or less: 10 g CHO
Glucose < 5 mmol/L: 20 g CHO
During Exercise
Consume, if needed, small amount of carbs. Do not enter carbs into the bolus screen. E.g. 10 g per hour if long bike trip.
Treat lows. Avoid over-treating.
After Exercise
Temp target options (8.3 mmol/L, no auto-corrections possible). Individualize:

May leave on x 24 hr after exercise if it was extreme or prolonged intensity.
May leave on for a few hours afterwards if less intense but find the patient is "flirting" with lows after exercise
Or may turn off the temp target immediately after the exercise.

Target changes

Consider 6.7 mmol/L target for a number of hours or longer
Consider 6.7 mmol/L target and manually turn off auto-corrections

Carb Input: May need to input less carb than eating (bolus modification) at next meal.
Follow-Up Steps & Carelink Reports
Frequency of optimization: 1-2 weeks after starting & at each routine visit.
Verify suggested settings per SmartGuard Setup (above) e.g. Target, Active insulin time, bolus increment, bolus deliver speed.
Carb Ratio may need to changed
Prebolusing or other bolus reminders (above)
Update Manual Settings

Glucose targets: 5.5-6.7 mmol/L
ISF (100/TDD)
Basal rates: TDD/2/24 (ensure it is < 50% of TDD)
Carb Ratio – same (or possibly more carb added to ratio if you notice that bolus is usually 60-70% of TDD)

Carelink report notes: small purple bars/boxes below the line are auto-corrections. Taller purple bars above the line are meal boluses. Pink continues to be auto-basal.

Daily Review: CGM graph per day with bolus, carbs
Adherence: For tubing fills and canula changes
Logbook: TDD per day, % bolus per day, CHO per day
Device Settings: Manual setting

Patient phone app views different: Tall blue bars are auto-corrections and small vial icons are boluses on the app. Pink remains auto-basal.
If Time in Range is < 70% additional considerations:

Is the person adding large/frequent cannula fills to try to circumvent the system? (see adherence report)
Is the system being "tried" by certain bolusing habits? Do patients query, "Why isn't it giving me more basal?" This might be seen visually in reports as long/frequent periods of the auto-basal suspending. Two possible reasons for this follow. 1) The person is not bolusing regularly for food. The system believes the insulin it is providing is all for basal needs. This may cause lows as well, even overnight. The solution is to have the patient bolus even a few grams of carb if eating over the day. Otherwise, periods of 5 hr with NO carb inputted are interprestted as "fasting". 2) Or the carb ratio is too strong; people may be over-bolusing. Carb ratios may need to be loosened (have carb added) to prevent long/frequent basal suspensions, assuming exercise is not involved.
Infusion Sets & Fills
Extended (wear) Sets & Reservoirs

The materials for the canula, tubing, adhesives and reservoir have all been changed to reduce insulin degradation. All the extended wear sets are suitable for maximum 7 days of use. A set can be re-used to a maximum of 7 days, e.g. if a reservoir change is needed before 7 days is up. However, after 7 days total use, it needs to be replaced.
E.g. TDD 60 units provided by Medtronic
Day 1: New extended wear set + extended wear reservoir
Day 5: Keep set but use new extended wear reservoir only (as out of insulin)
Day 7: New extended wear set and new extended wear reservoir
Cannula Fills
Set Name
Cannula Length
Cannula Fill
Extended (wear)
6 mm, 9 mm
0.6 unit
Silhouette
13 mm or 17 mm
0.7 unit
Mio 30
13 mm
0.7 unit
Quick Set
6 mm
9 mm
0.3 unit
0.5 unit
Mio
6 mm
9 mm
0.3 unit
0.5 unit
Mio Advanced
6 mm, 9 mm
0.6 unit
Sure-T
6 mm or 8 mm

Zero unit
Company Contacts
Medtronic Canada Website
Customer Care: 1-800-284-4416
Diabetes Territory Manager (Southern Alberta):

This email address is being protected from spambots. You need JavaScript enabled to view it.

1-403-829-1932
Diabetes Clinical Specialist (Alberta):

This email address is being protected from spambots. You need JavaScript enabled to view it.

1-403-831-4102