The Tandem t:slim X2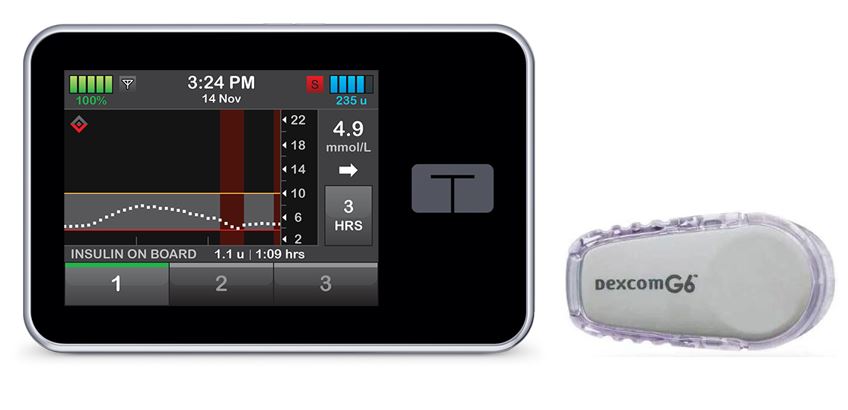 Pump Features
Colour touch screen
Dexcom G5 CGM enabled with Tandem 2018-2019
Dexcom G6 CGM enabled with Basal IQ upgrade 2020
Rechargable battery
Tubed infusion sets
Upgrades are done via software downloads
News 2019-10-17
New t:lock sets and t:lock reservoirs will be available soon. By March 30, 2020 Tandem luer lock sets and reservoirs will no longer be available. The new proprietary t:lock sets will be 30 seconds faster to fill and use 4.4 less units. These must be paired with t:lock reservoirs. Diabetes Express will guide people through this but if patients receive mismatched sets/reservoirs please direct them to the rep who may assist (she has plenty of supplies).

Basal IQ is coming...the date is not finalized.

Basal IQ is an upgrade feature that will allow the pump to automatically reduce basal insulin to help prevent hypoglycemia.

Basal IQ will offer 2 additional screens: One to turn Basal IQ on/off and another screen to choose if the pump should alarm when Basal IQ has started to actively reduce basal.

Patients can start Basal IQ alone after completing a patient training module and obtaining the online Basal IQ software upgrade (approximately 6 minutes to download).
Tandem Certified Pump Trainers will receive an emailed invitation to complete an online training module (about 10 minutes) to become certified for Basal IQ.
Education regarding interpretation of Diasend records while using Basal IQ will be forthcoming.
Training
Company Contacts
Territory Manager Kate Stephen

This email address is being protected from spambots. You need JavaScript enabled to view it.


PHONE: (403) 512-2632 FAX: (858) 224-6400