This page is in development and relevant only to Diabetes Centre Calgary clinicians.
Before your patient appointments, review the following on the patient chart. Note that if there are previous encounters charted on Soprano, you will have read-only access to the data until 1 year after the last site goes live with Connect Care (approximately Spring of 2025).

When you hover your mouse, more information will pop up for many of the items on the Storyboard. Clicking on a specific data item opens a view that allows you to edit it. From top to bottom, among other things, you can see:
A yellow sticky note with your own personal notes for the patient. This is where you can put handy notes to yourself, e.g. "Ask about daughter's wedding in August."
A green sticky note with notes written by all people within your department. This is where you should chart use of Cloud-Based Patient Data Services.
An icon that indicates if the patient has signed up for MyAHS Connect.
An icon that appears if the person is pregnant.
Patient name and demographics. Clicking on the demographic info opens a screen where you can document need for interpreter and for what language - displays in the demographic area.
Pregnancy status - if appropriate. Hovering your mouse will show EDD (Expected Date of Delivery) in pop up.
PCP (Primary Care Provider) and Referring Provider. Clicking on the section allows you to change or add physicians as needed.
Visit notes
Weight and BMI. Hovering your mouse will display recent weights
Summary data for the last 10 visits in Connect Care. Hovering your mouse will display a limited view of the data.
Care Gaps: Among other possible gaps, this will include notices that a retinal screen or foot exam is due or overdue (as documented in Connect Care).
Medical Problems
Social Determinants of Health
Referral
Use the Chart Review tab to look at the referral.
If the referral comes from a provider within Connect Care, click on 'Referrals" to see it (square highlight in picture below).
If the referral comes from a provider external to Connect Care, e.g. most family physicians, click on "Media" and select it from the list (see arrow in picture below).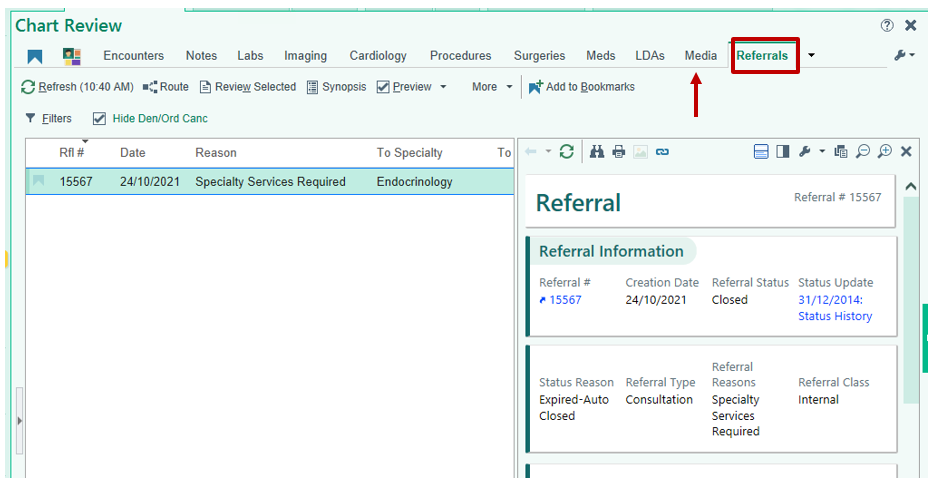 Look at Soprano to see referrals for patients who were first referred before the switch to Connect Care.
Labs
Lab results are shown under the Chart Review tab > Labs. Click on the desired lab result to open a results screen to the right (shown with the arrows in the picture below).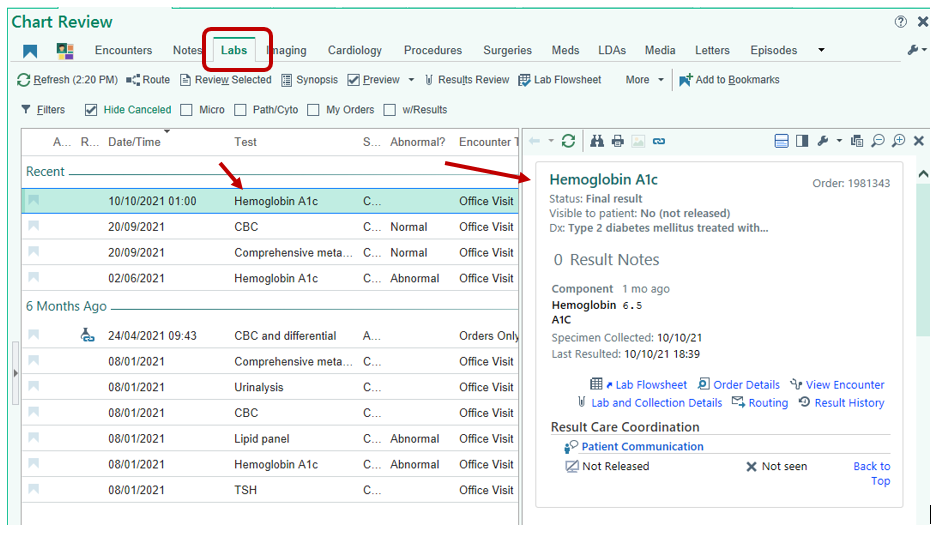 Previous Encounters
Encounters correspond to patient contacts, whether in-person or virtual. In our transition from Soprano to Connect Care, you will find it necessary to view previous contacts in Soprano.
Previous contacts documented in Connect Care are viewed by going to the Chart Review tab > Encounters. You are able to filter encounters by clicking on the Filter button (shown in the oval marker in the picture below). This is useful for patients who have had many visits documented in Connect Care.